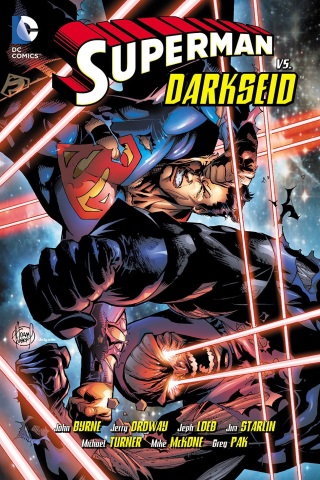 Relevant Tags
Details
Collects SUPERMAN 3, ADVENTURES OF SUPERMAN 426, ACTION COMICS 586, SUPERMAN VS. DARKSEID: APOKOLIPS NOW!, SUPERMAN/BATMAN 12-13, COUNTDOWN TO FINAL CRISIS 3-2, DEATH OF THE NEW GODS 8 and JUSTICE LEAGUE 23.1.
Sean's Role

Segment writer

Sean's Collaborators

Paul Dini (lead writer)
Keith Giffen (plotter)
Jamal Igle (artist)
Scott Kolins (artist)
Freddie Williams II (artist)
Keith Champagne (inker)
Tom Chu (colorist)
Pete Pantaris (colorist)
Travis Lanham (letterer)
Ken Lopez (letterer)
Adam Kubert (cover artist)

Release Date

May 12, 2015

Publisher

DC Comics

Format

240 page softcover. Full color.

ISBN

1401255434
More of This
Where to Buy
*I may earn commissions on Amazon purchases originating from this site.